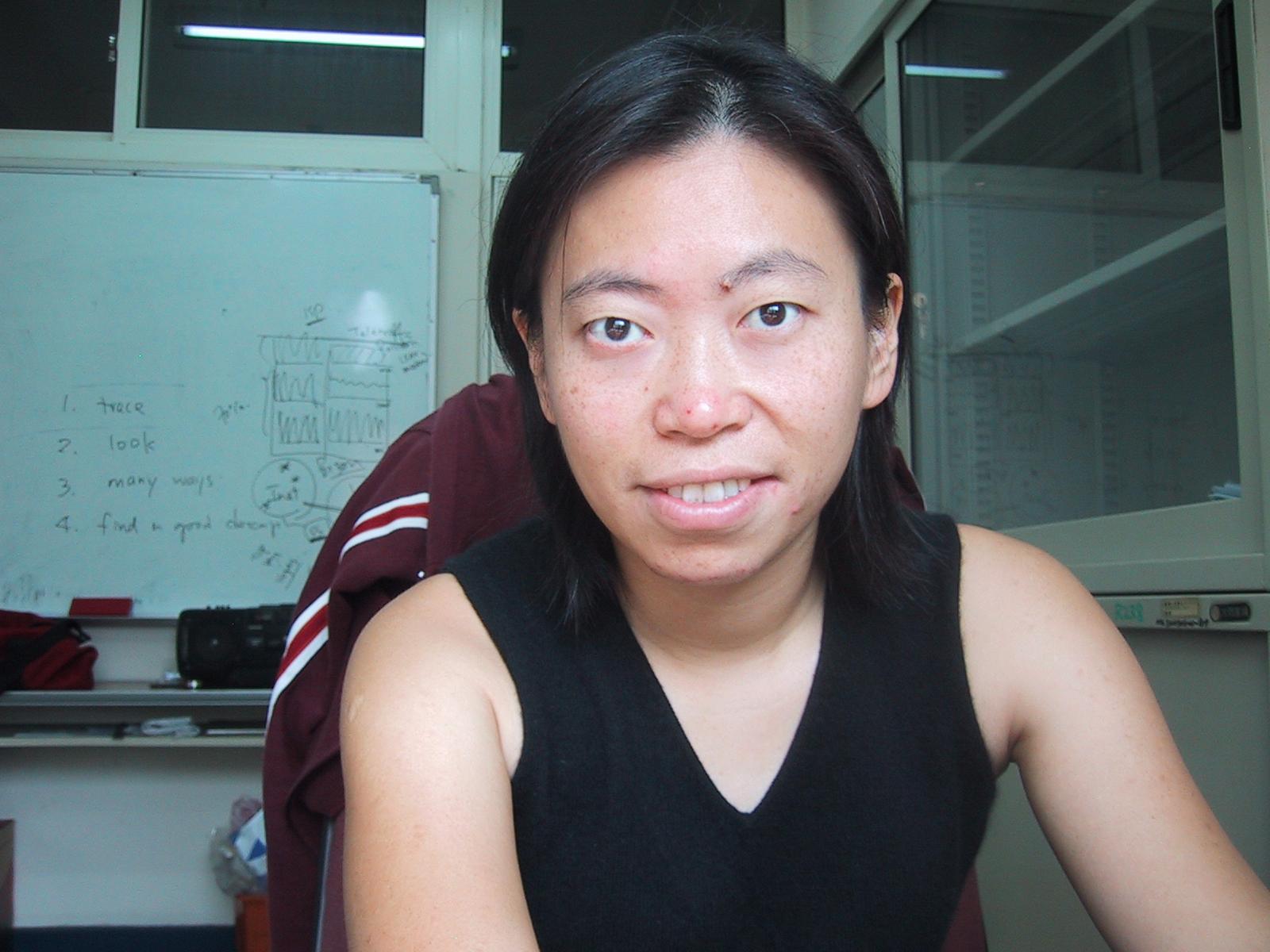 Polly Huang

Professor
Department of Electrical Engineering
National Taiwan University
bio | teaching






Polly Huang is a nerd and a geek. She enjoys observing systems of complexity and loves the process of finding out their true nature. She is super fond of taking machines apart and restoring them with twists of her own. Otherwise, Polly's an ordinary professor who spends most of her work time reading and thinking, and the rest writing and reasoning.
Research Interest:

Multimedia Networking

Mobile/Sensing System


Selected Publication:

Multimedia system, network, user experience
Wei-Shiang Wung, Guan-Ting Ting, Ruey-Tzer Hsu, Cheng Hsu, Yu-Chien Tsai, Caleb Wang, Yuan-Tai Liu, His Chen, Polly Huang, "Twitch's CDN as an Open-Population Ecosystem", In Proceedings of the 16th ACM Asian Internet Engineering Conference (AINTEC 2021), Hiroshima, Japan (virtual), December 2021
Cing-Yu Chu, Chien-Nan Chen, Yu-Chuan Yen, Su-Ling Yeh, Hao-hua Chu, Polly Huang, "EQ: A QoE-Centric Rate Control Mechanism for VoIP Calls", ACM Transactions on Modeling and Performance Evaluation of Computing Systems (TOMPECS), February 2018
Chien-Nan Chen, Cing-Yu Chu, Su-Ling Yeh, Hao-hua Chu, Polly Huang, "Modeling the QoE of Rate Changes in SKYPE/SILK VoIP Calls", IEEE/ACM Transactions on Networking (TON), Vol. 22, No. 6, pp1781-1793, December 2014
Yu-Chuan Yen, Cing-Yu Chu, Su-Ling Yeh, Hao-Hua Chu, Polly Huang, "Lab Experiment vs. Crowdsourcing: A Comparative User Study on Skype Call Quality", In Proceedings of the 9th Asian Internet Engineering Conference (AINTEC 2013), Chiang Mai, Thailand, November 2013
Te-Yuan Huang, Kuan-Ta Chen, Polly Huang "Tuning Skype's Redundancy Control Algorithm for User Satisfaction", In Proceedings of the 28th Conference on Computer Communications (INFOCOM 2009), Rio de Janeiro, Brazil, Apr. 2009
Meng-Ting Lu, Jui-Chieh Wu, Kuan-Jen Peng, Polly Huang, Jason J. Yao, Homer H. Chen, "Design and Evaluation of A P2P IPTV System for Heterogeneous Networks", IEEE Transactions on Multimedia (TMM), Vol. 9, No. 8, pp. 1568-1579, December 2007
Kuan-Ta Chen, Chun-Ying Huang, Polly Huang, Chin-Laung Lei, "Quantifying Skype User Satisfaction", In the proceedings of the ACM SIGCOMM Conference on Applications, Technologies, Architectures, and Protocols for Computer Communication (SIGCOMM 2006), Pisa Italy, September 2006

Ubiquitous/wearable system, service, user study
Pei-Shin Hwang, Yi-Ting Wu, Polly Huang, "Epidermal Sensing of Muscle Compensation", In Proceedings of the 1st CHIIoT Workshop, in conjunction with EWSN 2021, Poster Session, Delft, Netherland, February 2021
Jun-An Chen, Cynthia Yun-Shin Liu, Hong Jhih Chen, Hsin-Yuan Chen, Hsea-Ching Hsueh, Yu-Chia Huang, Koji Yatani, Hao-Hua Chu, Polly Huang, "Smart KT Tape - A Bendable Wearable System for Muscle Fatigue Sensing", In Proceedings of the 5th ACM Workshop on Wearable Systems and Applications in conjunction with MobiSys 2019 (WearSys 2019), Seoul, Korea, June 2019
Chi-Ju Chao, Chun-Wei Huang, Chuan-Jie Lin, Hao-Hua Chu, Polly Huang, "DanceVibe: Assistive Dancing for the Hearing Impaired", In Proceedings of the 9th EAI International Conference on Mobile Computing, Application and Services (MobiCASE 2018), Osaka, Japan, February 2018
Chuang-Wen You, Kuo-Cheng Wang, Ming-Chyi Huang, Yen-Chang Chen, Cheng-Lin Lin, Po-Shiun Ho, Hao-Chuan Wang, Polly Huang, Hao-Hua Chu, "SoberDiary: A Phone-based Support System for Assisting Recovery from Alcohol Dependence", In Proceedings of ACM Conference on Human Factors in Computing Systems (CHI 2015), Seoul, Korea, April 2015
Chuang-Wen You , Hsin-Liu (Cindy) Kao, Bo-Jhang Ho, Nan-Chen Chen, Yi-Hsuan Hsieh, Polly Huang, Hao-hua Chu, "ThermalProbe: Exploring the Use OF Thermal Identification for Per-User Energy Metering", In Proceedings of the Internatinoal Conference on Green Computing and Communications (GreenCom 2014), Taipei Taiwan, September 2014
Cheng-Yuan Li, Yen-Chang Chen, Wei-Ju Chen, Polly Huang, Hao-Hua Chu, "Sensor-Embedded Teeth for Oral Activity Recognition", In Proceedings of the 17th ACM International Symposium on Wearable Computers 2013 (ISWC 2013), Zurich, Switzerland, September 2013
Polly Huang, "Promoting Wearable Computing: A Survey and Future Agenda", In the Proceeding of the International Conference on Information Society in The 21st Century: Emerging Technologies and New Challenges (IS 2000), November 2000

Senosr/mobile system, network, field study
Hsin-Yuan Chen, Ruey-Tzer Hsu, Ying-Chiao Chen, Wei-Chen Hsu, Polly Huang, "AR Game Traffic Characterization: A Case of Pokemon Go in a Flash Crowd Event", In Proceedings of the 19th ACM International Conference on Mobile Systems, Applications, and Services (MobiSys 2021), Poster Session, Virtual, June 2021
Sung-Hwa Tsai, Seng-Yong Lau, Polly Huang, "WSN-Based Real-Time Indoor Location System at the Taipei World Trade Center: Implementation, Deployment, Measurement, and Experience", In Proceedings of the 11th IEEE Conference on Sensors (IEEE Sensors), Taipei, Taiwan, October 2012
Ted Tsung-Te Lai, Wei-Ju Chen, Kuei-Han Li, Polly Huang, Hao-Hua Chu, "TriopusNet: Automating Wireless Sensor Network Deployment and Replacement in Pipeline Monitoring", In Proceedings of the 11th ACM/IEEE International Conference on Information Processing in Sensor Networks (IPSN 2012), Beijing, China, Apr. 2012
Seng-Yong Lau, Ling-Jyh Chen, Yu-Te Huang, Po-Yen Lin, Yi-Hsuan Chiang, Jyh-How Huang, Kun-chan Lan, Hao-hua Chu, Polly Huang, "us-Scale Time Synchronization for Energy-Constrained Mission-Critical DTSNs", In Proceedings of the 9th IEEE International Conference on Networked Sensing Systems (INSS 2012), Antwerp, Belgium, June 2012
Chun-Chieh Hsiao; Seng-Yong Lau; Chia-Hui Chen; Fei-Hsiu Hsiao; Hao-hua Chu; Polly Huan, "A Case of Long-Term ADL Inference and Modeling", In Proceedings of the 8th IEEE International Conference on Networked Sensing Systems (INSS 2011), Penghu TW, June 2011
Hsing-Jung Huang, Ting-Hao Chang, Shu-Yu Hu, Polly Huang, "Magnetic Diffusion: Scalability, Reliability, and QoS of Data Dissemination Mechanisms for Wireless Sensor Networks", Elsevier Computer Communications, Vol. 29, No. 13, pp. 2482-2493, August 2006

Location system, measurement, analysis
Yi-Hsuan Chiang, Ying-Chih Chen, Polly Huang, "Towards Practical Probabilistic Location Inference for Indoor Environment", In Proceedings of the 15th ACM Annual International Conference on Mobile Computing and Networking (MobiCom 2009), Poster Session, Beijing, China, September 2009
Seng-Yong Lau, Tsung-Han Lin, Te-Yuan Huang, I-Hei Ng, Polly Huang,"A Measurement Study of Zigbee-based Indoor Localization Systems Under RF Interference", In Proceedings of the Fourth ACM International Workshop on Wireless Network Testbeds, Experimental Evaluation and Characterization (WiNTECH 2009), Beijing, China, September 2009
Tsung-Han Lin, Polly Huang, Hao-hua Chu, Chuang-Wen You, "Energy-efficient Boundary Detection for RF-Based Localization Systems", IEEE Transaction on Mobile Computing (TMC), Vol. 8, No. 1, pp. 29-40, January 2009
Ho-lin Chang, Jr-Ben Tian, Tsung-Te Lai, Hao-hua Chu, Polly Huang, "Spinning Beacons for Precise Indoor Localization", In Proceedings of 6th ACM Conference on Embedded Networked Sensor Systems (SenSys 2008), Raleigh, NC, USA, November 2008
Chuang-wen You, Yi-Chao Chen, Hao-hua Chu, Polly Huang, Ji-Rung Chiang, Seng-Yong Lau, "Sensor-Enhanced Mobility Prediction for Energy-Efficient Localization", In the proceedings of the 3rd Annual IEEE Communications Society Conference on Sensor, Mesh and Ad Hoc Communications and Networks (SECON 2006), Reston VA, USA, September 2006
Tsung-Han Lin, Polly Huang, Hao-Hua Chu, Hsing-Hau Chen, Ju-Peng Chen, "Enabling Energy-Efficient and Quality Localization Services", In the proceedings of the 4th IEEE International Conference on Pervasive Computing and Communications (PerCom 2006), Work in Progress Session, Pisa Italy, March 2006

More
The Polly Huang page at Google Scholar conveniently displays all of her work and inconveniently also works by other P. Huang. Buyers beware.

Selected Patents:

US8022875 Indoor Localization System and Method (cited by Google, Microsoft, Duke U.)
US8130103 Method of Reducing Power Consumption of a Radio Badge in a Boundary Detection Localization System (cited by Microsoft, SK Telecom)
US8559902 Operation Method and Radio Device for Controlling Power Switch of Radio (cited by Ericsson, Fujitsu, Uppala U.)
US8406272 Frequency Hopping Method for Localization System (cited by Salland)
US8959207 State Tracking System via Social Network Interface and Method Thereof

Selected Talks:

Smart KT-Tape - A Flexible Wearable for Muscle Fatigue Sensing
WearSys, June 2019, Seoul
Polly's Theory of Relativity
CSG Reunion, June 2018, Zurich
Measuring Subjective QoE for Interactive System Design in the Mobile Era - Lessons Learned Studying Skype Calls
NetGames Keynote, June 2017, Taipei

Selected Professional Services:

General Co-Chair, SenSys'20, EWSN'21
TPC Co-Chair, IPSN'21, WWW(Mobile)'21, SenSys'23, AINTEC'24
TPC Member, SenSys'22, IPSN'23
Associate Editor, ACM Transactions on the Web

---

Department of Electrical Engineering, BL-613

National Taiwan University

No.1 Sec.4 Roosevelt Road

Taipei, 10617

Taiwan, R.O.C.

+886-2-3366-3599

pollyhuang at ntu.edu.tw

---

Polly Huang
Copyright © 2023
http://homepage.ntu.edu.tw/~pollyhuang/