In season from December through March, atemoya ranks the second highest among Taiwan's fruits in export value, topping TWD 1.3 billion per year. Atemoya is a large fruit with supple yet resilient pulp and a mouth-watering sweet-sour taste. Mainland China used to be the largest export market of Taiwan's atemoya; however, the export of atemoya there was temporarily suspended on September 20, 2021. As this fruit of the farmers' labor cannot be exported there, the government is striving to expand the overseas fruit market, with the export target of 5,000 metric tons of atemoya-- to reduce the impact on the farmers' livelihood. However, keeping the fruit fresh in transit is critical to assuring atemoya's popularity in the export markets.
To this end, Associate Professor Chun-Ta Wu of the Department of Horticulture and Landscape Architecture of the College of Bio-Resources & Agriculture took the initiative to join hands with Professor Wei Fang, Chia-Lin Chung, Chung-Kee Yeh, Shih-Hsun Hsu and Ching-Cheng Chang, as well as experts at the Taitung District Agricultural Improvement Station, to form a cross-domain technical team. With the support from the Smart Agriculture Program of the Ministry of Science and Technology (MOST), the team developed the "Long-distance Storage and Transportation Technology for Atemoya" that can double the storage life of fresh atemoya to 3-4 weeks. So far, fresh atemoya has successfully been transported to Canada, Malaysia and the Middle East by sea at relatively low shipping costs. On arrival, the fruit has a shelf life of 5-7 days with a 90% sell-through rate. The extended storage life significantly increases the marketability of atemoya and enables market expansion.
The university has provided this vital technology to the Council of Agriculture free of charge, as well as helping to expand other overseas markets by selecting exporters with proven reliability and offering shipping subsidies. High quality goods and cutting-edge storage technology are both essential elements in successful exports. The combination of the two is the only way to achieve the goal of creating a sustainable export business.
NTU fulfills its university social responsibility by providing this technology for free. Thanks to the generous support of MOST, the team was able to complete the project and develop the key technology needed by the society and farmers. NTU can help!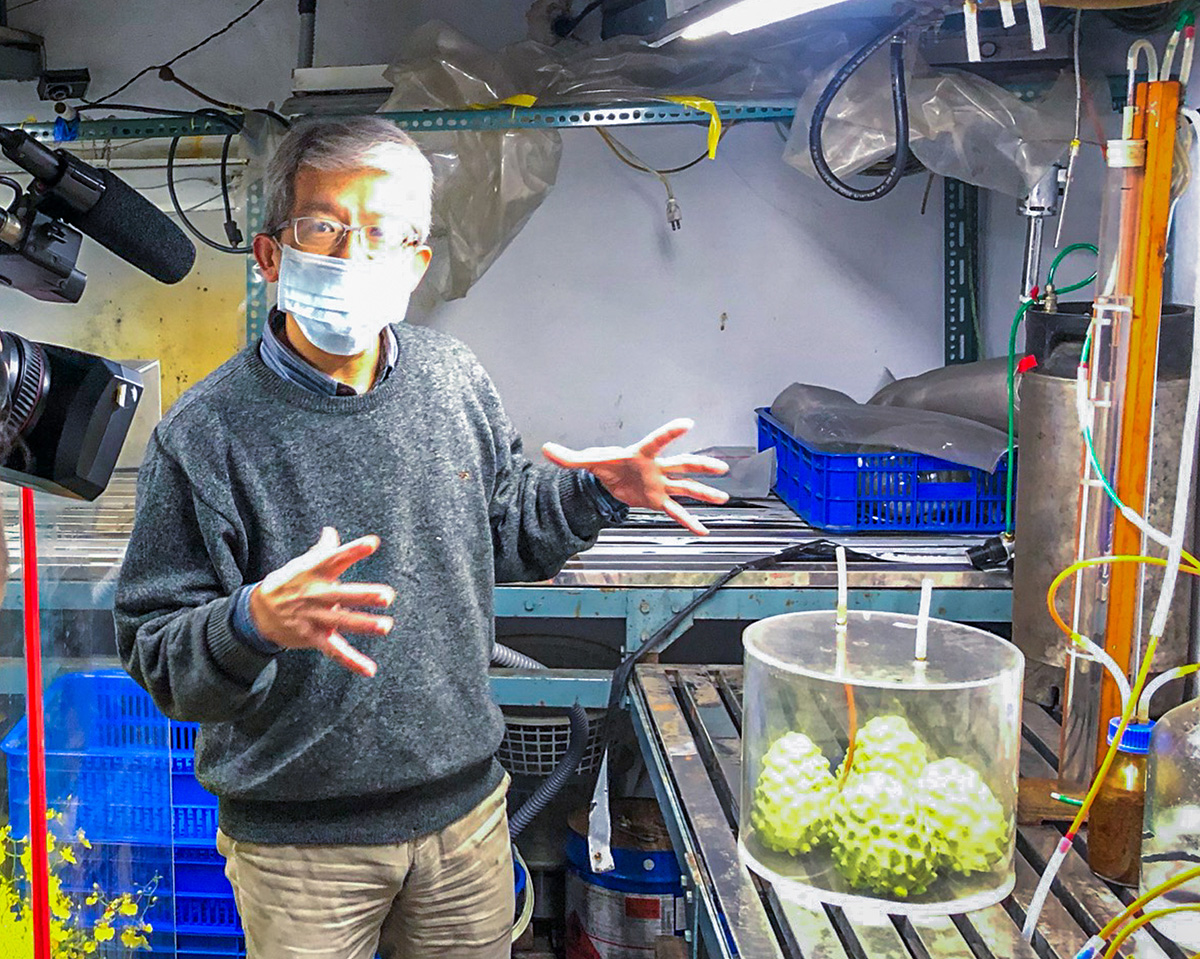 Associate Professor Chun-Ta Wu explaining the technology in the laboratory.